This past week has been American Craft Beer Week 2020, and while it ended up looking a lot different than what anyone could have predicted, the spirit has lived on through the virtual movement & support of local, independent craft beer across the United States. I wanted to end Craft Beer Week with a #DrinkTheStory profile of a brewery in Somerville, MA that truly gave me a sense of what the community brewery/taproom could be like, when I was just getting into the world of craft beer.
---
I moved to Boston on an extreme whim in Fall of 2013, just around the time I had started to become interested in the craft beer world. I had been running tours with North Bay Brewery Tours in Sonoma County for eight months prior to my move, and that's where my deep dive into the broad world of beer, brewing, and styles began.
When I arrived in Boston one of the first things I started to do was explore the multitude of craft beer options in the liquor or "packie" stores as they're called. I was starting to really enjoy Belgian beers at this point, and I remember this 4 pack of a beer called "Trekker Tripel" standing out to me on the shelves, that I immediately snatched up. I love the expressiveness coming from Belgian yeast, especially in a tripel, and I was excited to find a local option. It came from a brewery named Somerville Brewing Company or, more affectionately known by locals as "Slumbrew". Upon research, I saw they didn't have a brewery or taproom space open yet, but after a delightful trek through the Trekker Tripel four pack, it became clear to me they're a brewery I wanted to follow
Slumbrew is owned by husband and wife Jeff Leiter & Caitlin Jewell. Brewing under the Slumbrew name since 2011, Jeff started as an avid home brewer whose "Yankee Swap" rum barrel aged strong ale started getting Slumbrew notoriety around the Boston and greater Boston beer community. Jeff is the head brewer, doing everything from IPAs, to porters, to lagers, and a fantastic Nitro Stout named "Thanks Obama". They opened up their first taproom space in early Summer of 2015, along with an outdoor parking lot beer garden, or beer tent, depending which season it was. Their community first attitude was widely welcomed and the locals of Somerville flocked into their locations to try Leiters' beers. Their core four beers at one point were the Flagraiser IPA, their Porter Square Porter, Trekker Tripel, and Happy Sol Blood Orange hefeweizen.
Their motto "Make good liquids, make good friends" was key to their branding and message of being an active part of their community. I remember I couldn't wait to get into their tap room. I had become an avid follower of their brand, and had met Caitlin and Jeff at a Slumbrew tap takeover or beer festival (I cant remember which) over the year since I'd discovered their beer. They even had a program called Slumbassadors which you could sign up for to represent the brand at different events, and was a fun way to meet other people in a new city & also familiarize even more with the brand, and beer in general.
Over my years living in Boston, I attended a handful of events at Slumbrew, which they were great at hosting. From beer release parties, to Liquid Courage Branded comedy nights, to even making bread loaves from spent grain from the brewery, they sure knew how to put on events that brought people in more nights of the week than not. Paired with their fantastic beer, throwback music selection, and friendly staff, it was top notch hang out spot. They even hosted "Beer School" in partnership with a local beer store franchise Craft Beer Cellar at their beer tent over the winters as a way to educate any and everyone about the wide world of beer. Beer education was clearly important to Slumbrew, and that resonated with me.
Since the COVID 19 Pandemic, they've been forced to shut down outside of Curbside Pick up. They have hours for pick up listed on their website here, open 4 days a week currently. You can get growlers filled, or pick up cans. They'll bring it right to your car if you pre order. Slumbrew is located at 15 Ward Street in Somerville, MA. They're a brewery that has been at the heartbeat of Somerville's community for 5 years now, and if able, you should make sure to get over and grab some of their fantastic beers when and if you can.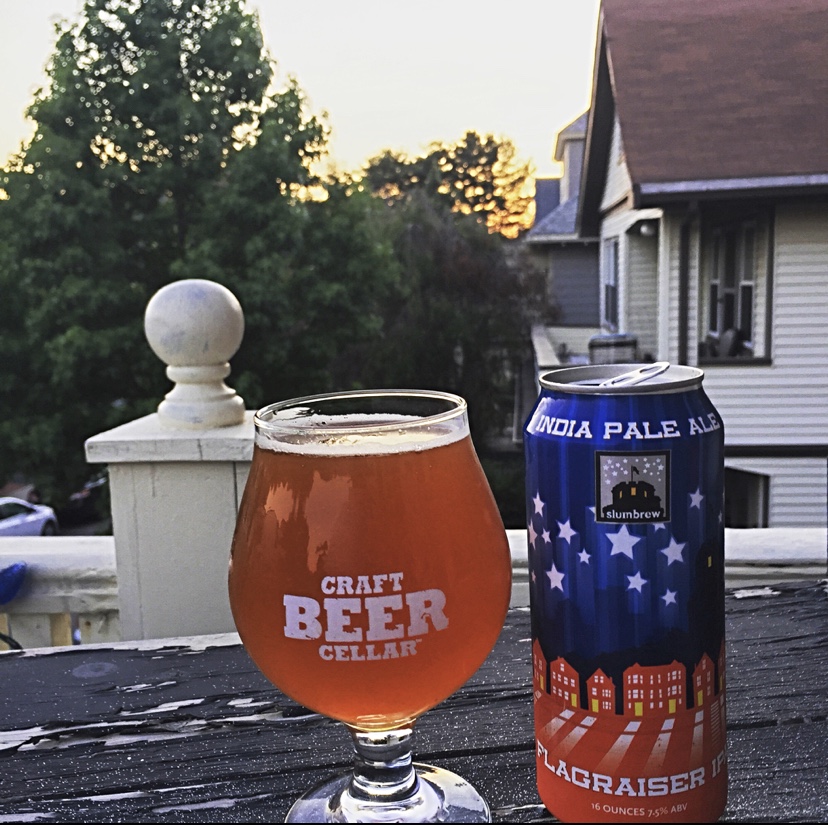 Cheers to Jeff, Caitlin, & the Slumbrew Crew. I hope to return to Somerville and share a pint with you at Ward Street very very soon!
---
Since launching #DrinkTheStory two months ago, so many great stories and positive messages have come out. Bloggers & beer friends have banded together on a Facebook group and I want to make sure to highlight stories that have emerged. Linked below are posts that I encourage you to read. There's also a fantastic campaign going from an organization Drink Local Think Global that has emerged as a craft brewery employee assistance relief campaign.
My friends April & Ken over at Living a Stout Life are amazing people and have posted many articles highlighting the craft beer community & ways everyone can help to donate if able & otherwise support our beloved craft breweries. Here are their #DrinkTheStory posts
Craft Breweries We Consider Home
4 Small Town Breweries with Big Hearts
NanoBrewing Big Dreams in Boulder, CO
How to Help your favorite struggling Craft Breweries
Paige of Alcohol By Volume posted a great read on Schell's Brewery for her first #DrinkTheStory post, and recently wrote a feature on the women owned Urban Growler Brewing Co here.
My blogger friends Jeff & Christina out of Colorado at Bottle Makes Three have also written two stories about what supporting local means to them, and a profile on a community oriented brewery near their home.
105 West Brewing Shows what it means to support the community
There are truly so many wonderful things coming from bringing beer people together, and some great discussions on our Facebook group, which you can join here . In two months there are over 200 members with prizes being given weekly for #DrinkTheStory engagement.