It's officially my favorite time of year for beer, as Oktoberfest is celebrated from September 21st through October 6th this year, and all the Marzen's and Festbiers' are rolling out on the beer shelves. These light alcohol, full flavor lagers are the perfect beer to usher in Fall. As the days shorten and the nights cool down, I love these malt laden, rich in flavor beers that are nowhere near as filling as a stout or porter. They're great early fall campfire beers that pair extremely well with food.
When I think about food and beer together, I'm always someone who tries to take it a step further by actually using beer in the recipe I'm making. If possible to pair the same beer you're drinking as the one in the food, great! Other times, you may want one beer style for the recipe, and a completely different one to complement the flavors of your food.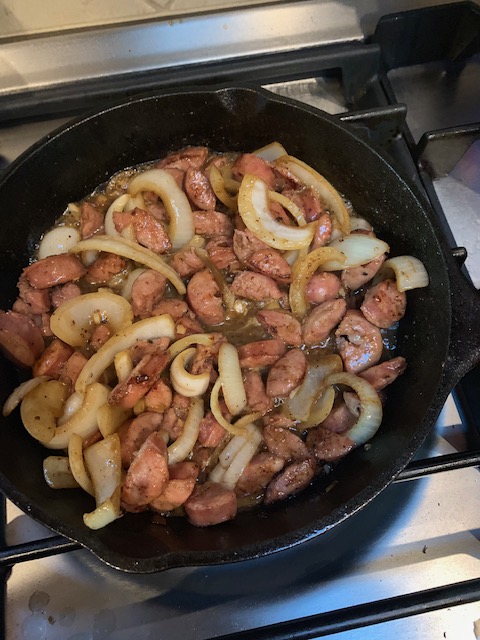 This recipe is one that I came up with three years ago, when I was thinking how I could put an Oktoberfest spin on my favorite comfort classic- Mac n Cheese. I had already made a beer Mac n cheese before with a darker brown ale in the sauce. So I expanded on that and decided an Oktoberfest beer would be another perfect beer to use. With the addition of bratwurst, yellow onion, stone ground mustard, and a perfect crisp pretzel topping- this Mac n Cheese recipe I'm about to share with you is definitely Oktoberfest-authentic! Feel free to substitute cheeses to your liking, as well as pasta types, but the rest you should follow fairly strictly.
Festbier Mac n Cheese
Ingredients:
1 box pasta (I used Rigatoni)
2 cups shredded cheese (I used smoked gouda and English cheddar)
One yellow onion, diced
One package bratwurst, taken out of casing
3 Tablespoons flour
3 Tablespoons butter
2 cups whole milk
2 cloves crushed Garlic
2 cups Oktoberfest style beer – If you need recommendations, let me know!
2 Tablespoons stone ground mustard
1 cup pretzels finely ground in blender or food processor until breadcrumb consistency
Salt, Pepper, Smoked Paprika and Garlic Powder for seasoning to taste.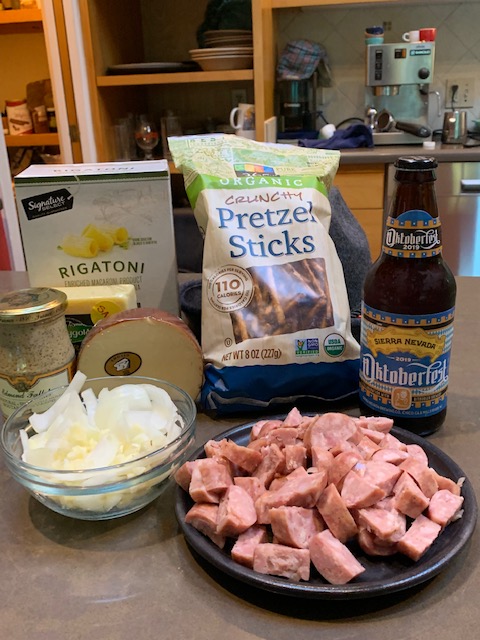 Steps:
Open yourself a beer of your choosing to have alongside your cooking, because face it, it's been a long day. Proceed to preheat oven to 400 degrees.
Boil large pot of salted water for pasta and once boiled, add box of pasta and only cook 7-8 minutes or until it just starts to soften. You want the pasta just under al dente because it will continue to cook in the oven. Set pasta aside and season with above mentioned seasonings, toss to keep loose.
While pasta is cooking, taking your cheese and grate it onto a big plate. Once all grated, let sit in fridge until it's time for the cheese sauce
Get your Bratwurst cooking in a pan over medium-high heat until starting to caramelize/brown, about 5-6 minutes. remove from pan and set aside. Lower pan temp, deglaze with 1 cup of the Oktoberfest beer, and add onions and garlic.
Once onions start to soften, add bratwurst back to the pan and cook another 5 minutes all together. Season with smoked paprika and one tablespoon of mustard, and let simmer on low to soak in all the beer flavor. Turn heat off stove and let sit while you start your cheese sauce
To start your roux, or base of the cheese sauce, take your butter and melt in on low heat in another pasta type of pot, once melted, whisk in the flour tablespoon by tablespoon. You want to keep whisking over low heat to combine the two and get the flour-y taste out, about 3-4 minutes, the roux should turn a light brown sugar color and start to bubble when it's coming together.
Once the roux looks like this, add a cup of the whole milk and keep whisking, after 2 minutes of constant whisking, the milk and roux should combine to make a thick paste looking consistency, then you'll add the next cup of milk and whisk that to combine. After a few minutes, it will thicken again, but not as much as the first time. This is when you add the cup of beer, and whisk together. Let this come together about 5 minutes on low heat, to cook the alcohol out. Your sauce should have a very light brown color to it. Add salt and pepper, increase the heat minimally, and let come to a low simmer.
Once this is simmering, lower the heat again and start adding the shredded cheese gradually, you'll want to whisk constantly to smooth it all as best you can in the sauce. You can always add more cheese if it isn't cheesy enough to your liking. Add one tablespoon of mustard to the sauce, and stir to combine.
Take the cooked Bratwurst and onions, add them into your pasta pot, then slowly fold in the cheese sauce to that mixture and stir together with a spatula or wooden spoon gently to make sure the cheese sauce is all mixed in. Then carefully transfer this to a greased baking dish, or cast iron skillet.
Add the crushed up pretzel topping, with a handful (or more) of grated cheese evenly along the top of the dish, and if you'd like, sprinkle more paprika along the top. All of this will help give your Mac n cheese that perfect crust. Put into the oven and bake for 20 minutes.
Once the dish is ready it should be just above golden brown colored on the top and bubbling. Let cool for a minute or two while you're pouring yourself another beer- I'd recommend sticking with an Oktoberfest style beer to go with this one, the maltiness and inherent toasted bread notes from the malt work really nicely with the rich cheese and sharp mustardy flavor in the Mac n cheese. This is one Fall comfort dish that you may want to have friends over to share, or one you want to keep all to yourself for those cool nights when you need a warm, full belly. But in either case, it's one that will most certainly be enjoyed. Prost!