When asked what the first thing that comes to mind when I mention Sonoma County or the Napa Valley region, about 90 minutes north of San Francisco, CA is, the standard reaction is "Oh the wine country!". Napa and Sonoma yes, are both known to be excellent wine producing regions that attract millions of visitors per year. However, Sonoma County is also an excellent, growing beer region that often gets overlooked. Having grown up in the small town of Sebastopol in West Sonoma County, I have the fortune of returning home every so often to this beautiful area of Northern California, perhaps in the beer world best known for Russian River Brewing Company and the birthplace of Pliny the Elder.
Russian River Brewing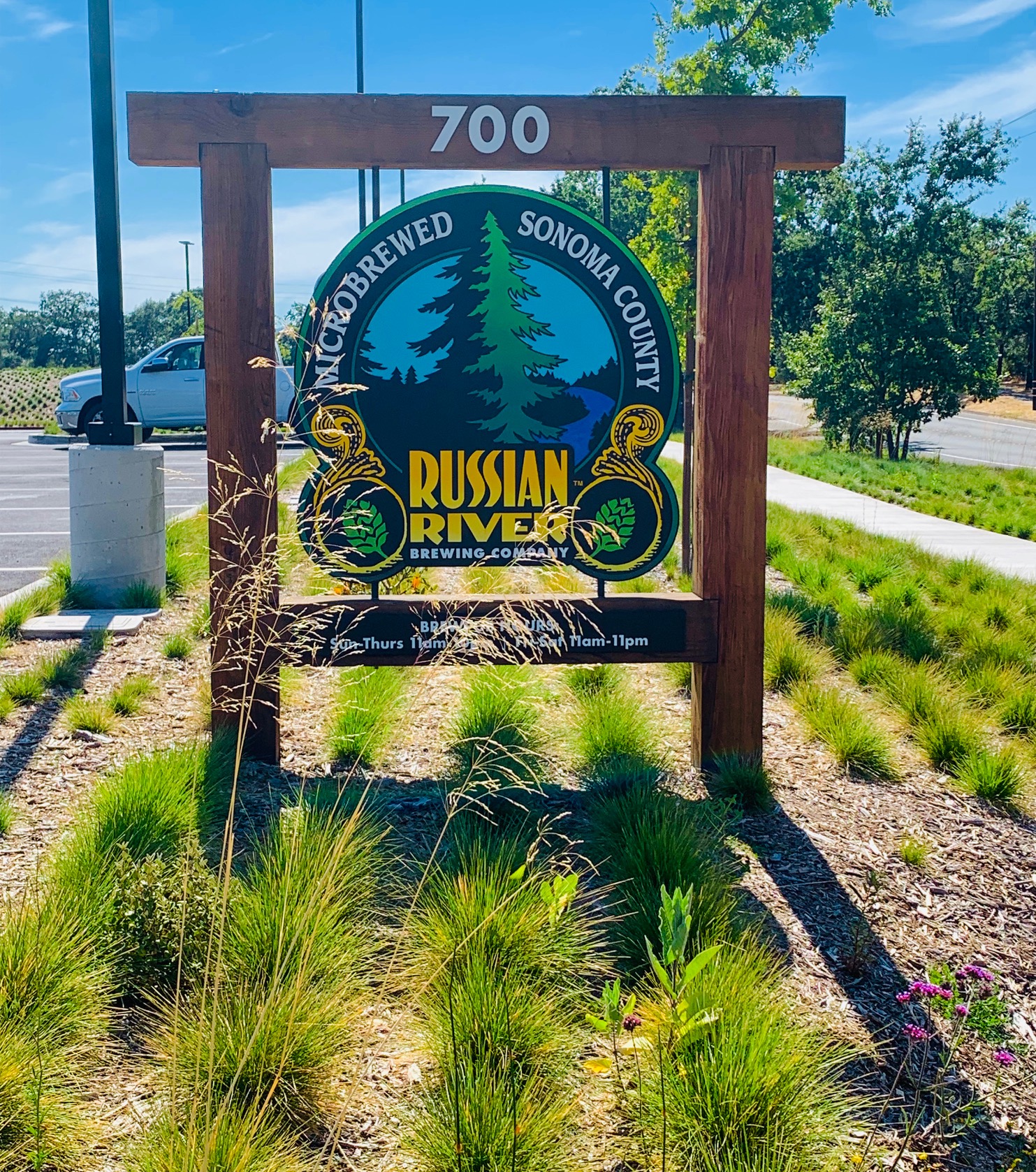 This being my first trip home in six months, and only second time in the past two years, I couldn't wait to check out the brand spankin' new Russian River Brewing facility located in Windsor, CA. Located 9 miles north of the original brewpub in downtown Santa Rosa, this facility is truly state of the art. They offer guided tours, or you can do a self guided tour. There's a huge restaurant and bar area inside, and a gorgeous patio in the back. You can get most of, if not all, your favorite Russian River brews to go either in bottle or Growler format in their merchandise shop. I sat at their bar first, enjoying a few samplers of their beers. Served in 2 oz format this is a great way to whet your whistle for what you may want next. I then moved onto their "Biere de Sonoma", an homage to Sonoma County in the form of a Biere de Garde. This quaffable beer is malty yet well balanced with a notable yeast presence, and doesn't taste as heavy as it may look.
Finally, I had to go sit out in their gorgeous patio and enjoy one of their signature IPAs- Blind Pig. They make sure no glassware is allowed outside, by serving in sustainable, reusable stainless steel cups, which didn't affect the quality or taste of the beer whatsoever. A great way to kill an afternoon in Windsor, Russian River Brewing is a must stop for beer geeks, foodies, and tourists alike.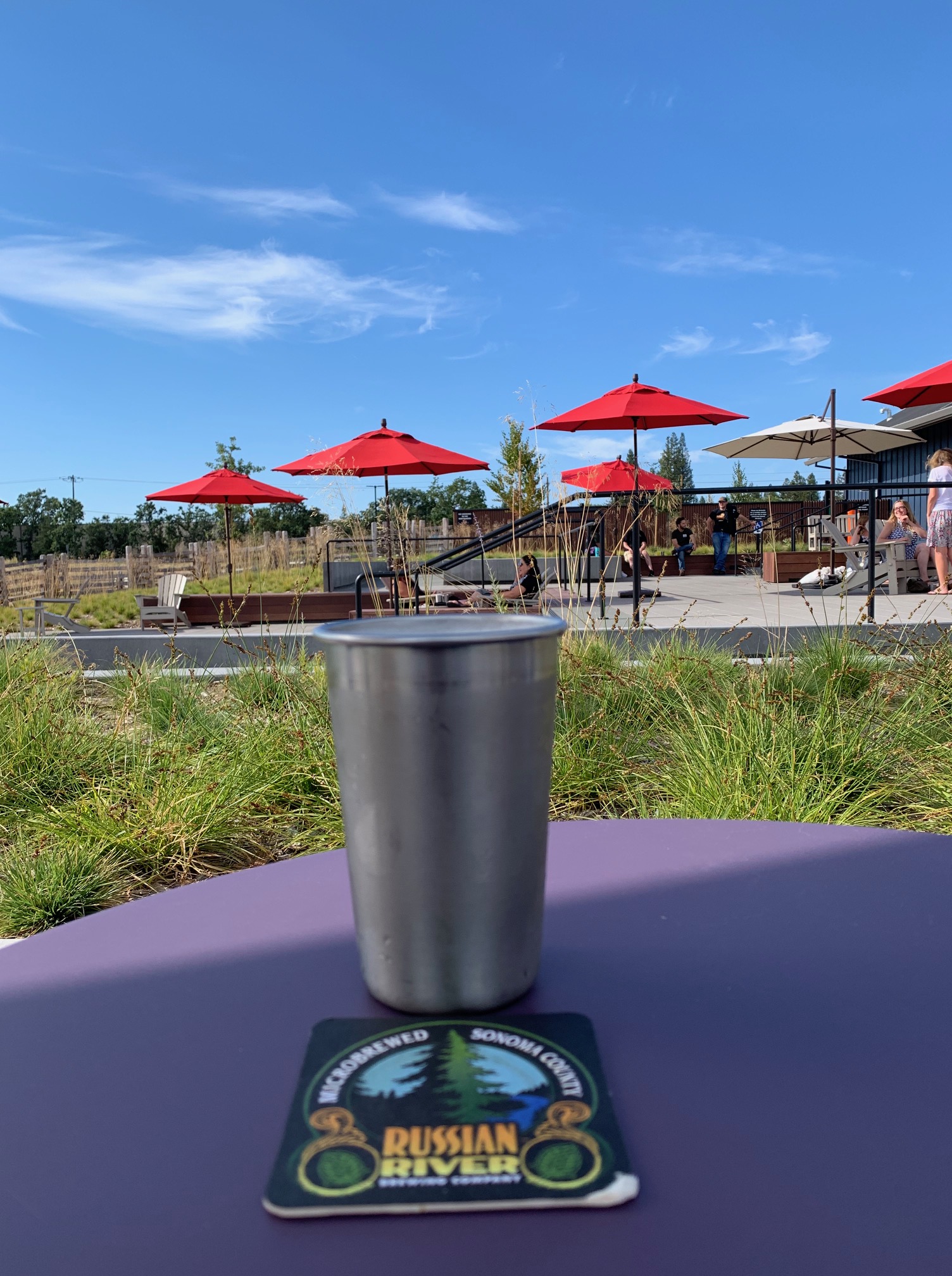 The rest of Sonoma County is filled with fantastic breweries that have been around anywhere from three months to three years. Santa Rosa, California is the most populated brewery city in Sonoma County, with places like Cooperage Brewing, Fogbelt, and a favorite that I swung by- HenHouse Brewing. This brewery known for a variety of styles and laid back nature has a location in Santa Rosa, and one in Petaluma. While I didn't stay long, I got a few tastes of beers such as a sour Grisette, a grisette being a low alcohol farmhouse ale, almost like a little sister to the saison. Refreshing and just tart enough, I'd recommend this beer from HenHouse to anyone on a hot summer day (or, any day!).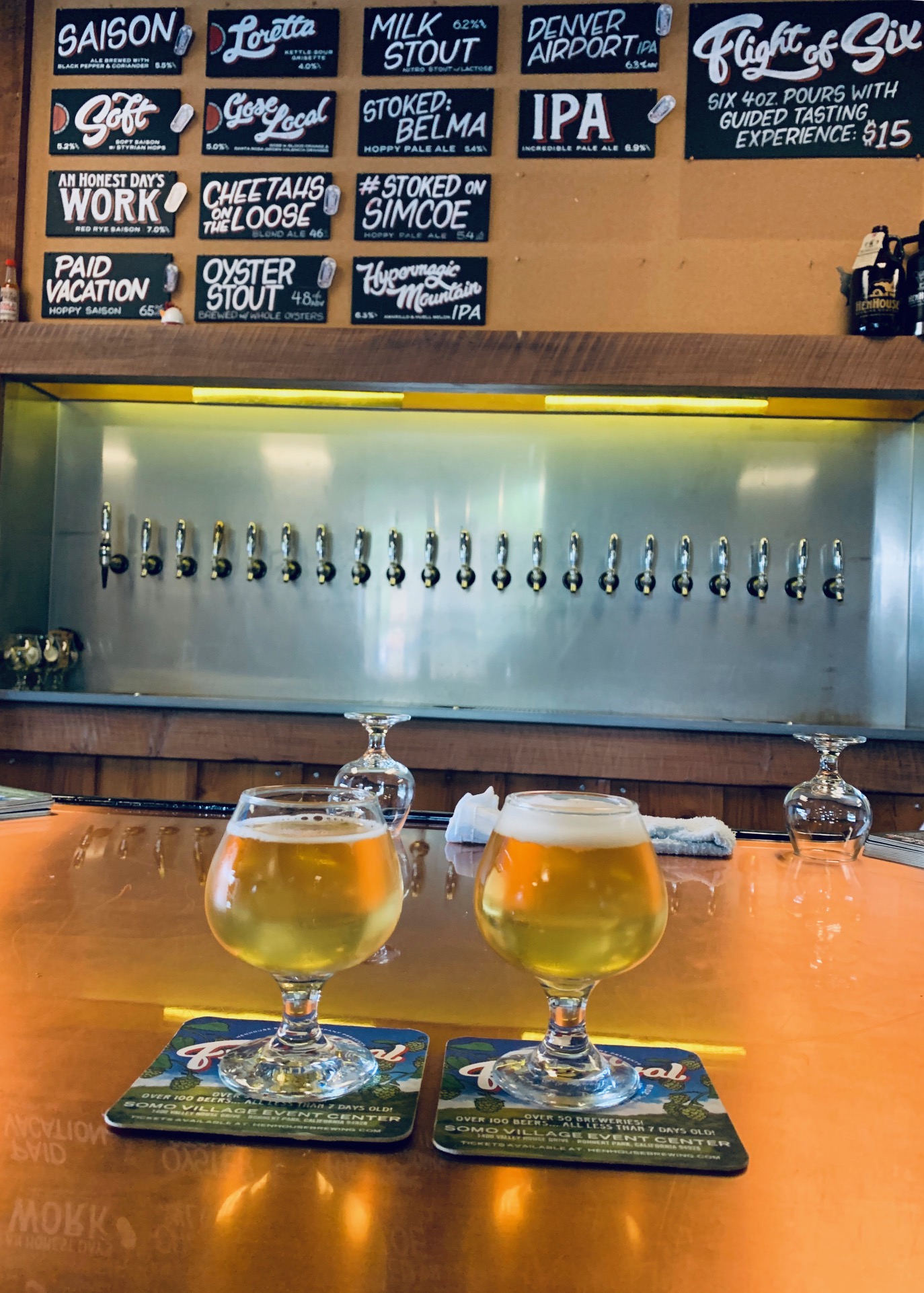 The newest addition to the Santa Rosa beer scene, and perhaps my favorite stop, is that of 3 Disciples Brewing. Just open on Mendocino Road on a downtown Santa Rosa corner, this spacious, beautiful spot has had beers flowing for just over three months now. Winners of beer competition awards for their Imperial Stout, this brewery has everything from IPAs, to a Belgian Dubbel on Nitro, to some killer, thirst quenching saisons. As a saison fanatic, I dove right into ordering tasters of those, as well as their cleverly named Kölsch "Walking Shtick", and a couple IPAs. Their saisons were the stand out of the bunch, and perfect for an 80 degree day sipper. As a new brewery, they didn't have any beers to go outside of growler fills, which was the only disappointment, and, I can't wait to come back here!
In my hometown of Sebastopol, if you're thirsty and can't choose where to go, you're in luck. There's the Barlow center, which is a hub of food, drink, and artisan merchants at the bottom of town. I finally got the chance to visit Crooked Goat Brewing, which has been on my list for some time now. They have a heavy line up of IPAs, fruited, hazy or West Coast style, as well as delicious light alternatives such as a blackberry ale and a honey ale. The stand out for me was the Lil' Citra Session, sitting in at 3.8%, which made the perfect companion for their beer garden and good sipping company. Within walking distance (no more than a block) you'll find Woodfour Brewing, and the newly opened Seismic Brewing taproom. A beer lover's best problem to have, three breweries within three blocks of each other.
A beer lover's best problem to have is also the glut of breweries in a region, but no safe way to get from spot to spot. Not everyone is situated in a neat little parcel such as the Barlow Center. If you're going to Sonoma County and looking to solve this problem, there's a fantastic beer bus company – North Bay Brewery Tours. These are fantastic people who will guide you around 3-4 of Sonoma county's breweries in an afternoon, and have many different tour options available. I've been on their tours and can attest, they do one fantastic, professional job. They're for the most part also the team behind Flagship Taproom, a beer bar in Cotati, California no more than 15 minutes from Santa Rosa. If you're looking to get a taste of local beer flavor and not have to "hop" around spot to spot, come here, hang out, and taste your way through any of their 20 beers on draft.
I hope by now you realize that Sonoma County Suds are just as popular as Sonoma County wines, and if you're in or headed to the area, these places are great options to start!
Cheers to Sonoma County Beer,
The Craft Beer Concierge